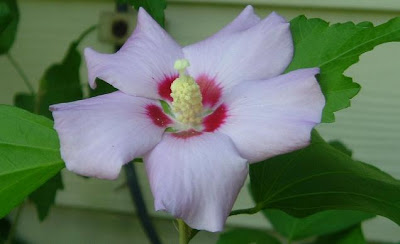 Yes, I realize the flower and the post title makes no sense with each other. It happens sometimes. I wanted to use the picture to give people happy memories of me when I leave.
Leave? Yes. I have to go, forced to go by conditions outside of my control. I don't really want to go because I love writing on my blog and reading about everybody's lives. But my life hasn't been the greatest lately, and living conditions have deteriorated to the point where I will be moving out of the place that I am sharing with someone.
Where am I going? I don't know.
How long will I be gone? I don't know.
Am I coming back? One day I hope to come back, so I'm just putting the blog into temporary hiatus for now until I find a new place to live and a new job to work. I'm hitting the road, people. I'm packing my bags and putting my thumb out waiting for the kind truck driver with the fuzzy dice hanging on his rearview mirror to pick me up and drive me out to Anywhere and Nowhere, USA. I hope it is a happy place.
Anyway, this explains the post title. As for the flower, it's a symbolic gesture from me to all of my readers. You can find peace and happiness within the simplest of places, like a splash of bright color lurking among velvet petals. Hopefully, I'll be able to find that in my life soon.
I'm so glad to have met all of you,
Peace
Michelle